Never Lose
Another
Real Estate Lead
Get all your leads in one place and take control of your follow up.
Work smarter, deliver a first-class client experience and close
more deals.
100% free to get started. No credit card needed!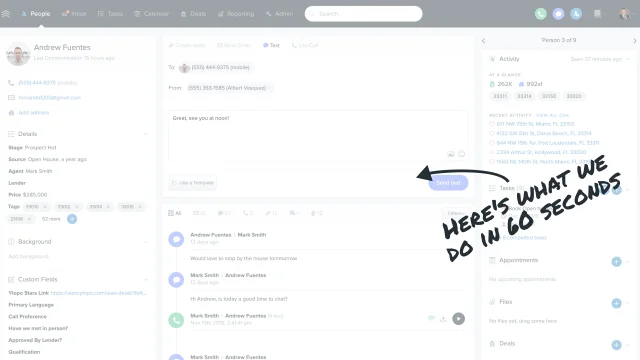 1:20
TRUSTED BY TOP PERFORMERS
The #1 CRM choice for growing teams and high-producing agents
If any of this sounds
familiar, you need
Follow Up Boss
My agents don't know how many leads came in this month
My agents can't tell which leads are most important now
Follow up stops after the first contact
My team loses the "speed to lead" test more than it wins
Leads are scattered across a dozen different systems
I have zero visibility into where the ball is being dropped
I'd put money on this: we're leaving money on the table
My agents and I both fear the term "CRM"
We recently lost one commission due to lack of follow up
I know I would make more money if my team followed up more
AUTOMATE
Automatically import and distribute leads. From 200+ sources.

"Follow Up Boss is a big reason why we have been able to double our sales every year since 2015."
Preston Guyton
Broker/Owner, CRG Companies

NO MORE GUESSWORK
Turn leads into clients with always-on follow up
that tells agents who to call, when.

Instantly assign leads to agents, respond to new leads and send notifications and reminders to agents
Always running in the
background
New leads and inbound calls from listings
or your website flow in and are
automatically put into Action Plans. Emails
and texts automatically go out, making
speed to lead instant.
200+ Lead Source Connections
Action Plans
Outbound Emails and Drips
Inbound Call Management

Start of day
Log in and click the "tasks" button. See the tasks for the day, and start checking them off, one by one (No guessing required).
Then respond to all your emails, missed calls, texts and voicemails in one central spot.Outbound Calling
Texting
Emails

30 mins before lunch
Review lists of active clients, pending
clients and top clients. Pinpoint the ones
that need contact. Text them. Go to lunch.Smart Lists
Mobile App

Afternoon
Between appointments and showings,
respond to push notifications, send texts,
make contact notes and redistribute
leads to others
Before leaving for the day
Review client and lead lists in Smart Lists and call or text them. Go home confident that follow up is 100% under control.
Smart Lists
Emails and Newsletters

1:41
Gary Ashton and Scott Hull#1 Remax team in the USA/World"In the past, I would say to new agents that you should be able to get a deal within 6 months.Now with Follow Up Boss, most are getting something under contract within 6 weeks!"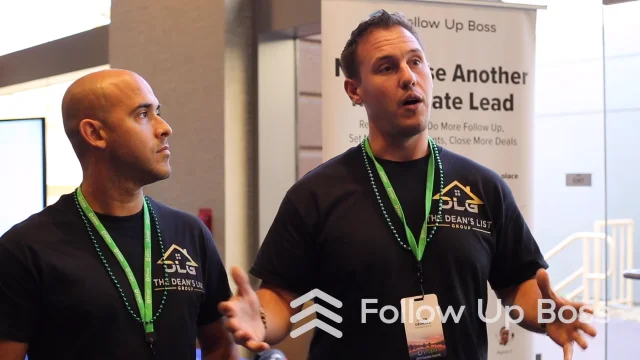 Dean Devries and Mike BaceloDean's List Group 5 star service"We're on pace to essentially double each year since we've been on Follow Up Boss. It makes it easy to run your team.It just tells you what you need to do. It's amazing."

Jenny Wemert and Emily Smith#1 Team in Orlando – Wall Street Journal"We can't accomplish anything without Follow Up Boss. We need it! We say it's our 'gold keeper.' It's the difference maker in everything we do."
ONE CENTRAL SYSTEM
Follow Up Boss is simple and complete, with everything in one place

Your agents feel comfortable and confident and see their performance improve.
You get control, better performance, and more sales.
Automatically pull in your leads from 200+ sources
Smart lists to take the guesswork out of who to call next
Pre-written drip campaigns and action plans
Dedicated onboarding team to make getting started easy
Replace your business phone system so everything runs through your CRM
Automatically route leads to your team
Full 2-way email sync with Gmail and Office 365
Syncs with your Google Calendar
An intuitive, zero-learning-curve interface
Support 7 days a week
App for Android and iOS (because agents live on the road)
Start My Free TrialSee How It Works →
Try Follow Up Boss Free For 14 Days
or call sales at
(855) 888-9769